Extended opening hours
We are now open 7 days a week until xmas.
Sunday: 12.00 - 4.00pm
Monday to Friday: 10.30am - 6.30pm
Saturday: 10.30am - 5.30pm

Prints Charming exhibition

A terrible title, but that's because we put all our time and effort into sourcing great work for it instead. We've brought in prints from all around the world, that fitted our criteria of being bright and cheerful, whilst offering both quality and value. A few examples of which are shown above.
We'll do our best to restock items as they sell out, but can't guarantee availability, so don't leave it too late.

Fri 4th October, 5.00 - 7.30pm
Nobrow book signings with Rob Hunter and Ben Newman
https://www.facebook.com/events/238321579653848/
UWE illustration alumni Rob Hunter and Ben Newman return to Bristol for the day, and will be instore signing copies of their latest books published by Nobrow press.
Robert Hunter graduated from UWE Bristol in 2007 and has been working as a freelance illustrator since, working with traditional drawing and printing techniques to produce his other worldly picture narratives. Robert has published a number of books with Nobrow Press, his most recent being MAP OF DAYS:
"One night, too inquisitive to sleep, Richard tiptoes from his bed, opens the cherry wood door of the grandfather clock, and steps inside. There, in a strange, nebulous twilight, he sees the face of the Earth, locked forever in a simulated world, where green things seem to grow in the semblance of trees and plants, from unreal soil.
In this quasi-world they sit together for many nights, the face and the boy, talking quietly of creation and the beginning of all things. Moved by the face's ancient tale of mysterious, magnetic love, Richard longs to release him. So one night he secretly winds back the hands of the grandfather clock, and changes time forever…"
Ben Newman, is an award-winning illustrator, and author of two Nobrow books; The Bento Bestiary, and Ouroboros. PROFESSOR ASTRO CAT'S FRONTIERS OF SPACE is a children's book (aimed at 7-11 year olds), written in collaboration with Quantum Physics teacher Dr. Dominic Walliman of Birmingham University:
"FRONTIERS OF SPACE will tell you everything you need to know about our planet, our solar system, our galaxy and the universe that there could be to know. Our clever little cat has made sure of that, he's a fastidious little feline.
PROFESSOR ASTRO CAT explores topics such as gravity, extra terrestrial life and time with fun facts and fascinating insights that will take you and your children on a journey to the very frontiers of Space."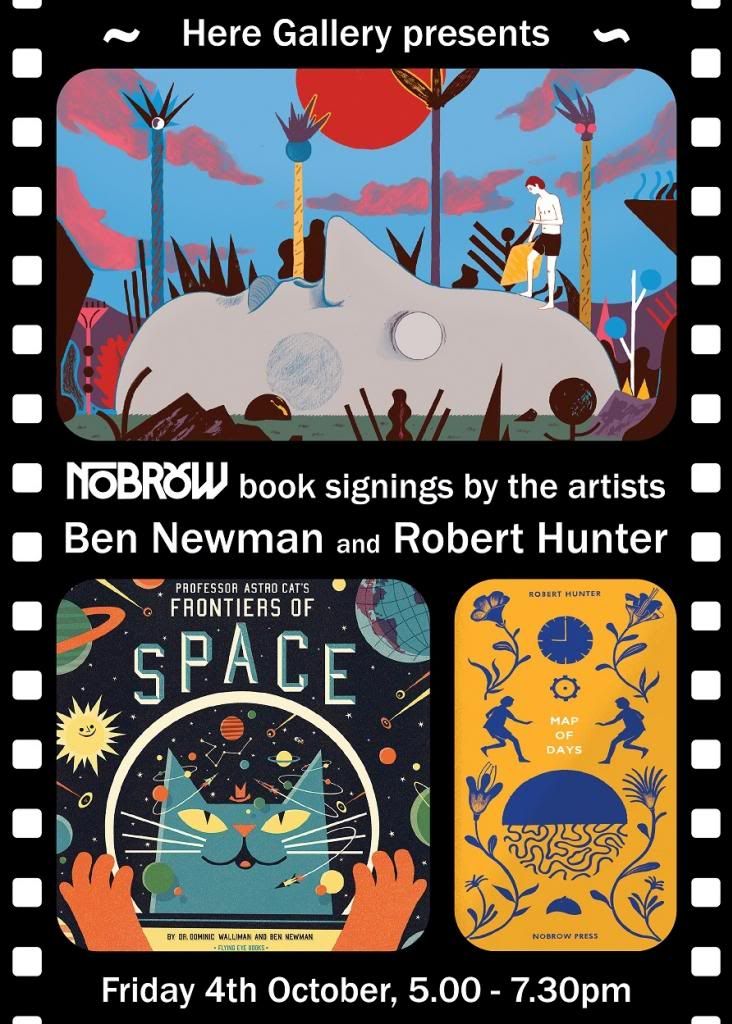 Past events
Sun 5th May
Tom Gauld - 'You're All Just Jealous Of My Jetpack'
Tom will be instore signing copies of his latest book. A collection of the weekly cartoons he does for the Guardian newspaper, published by Drawn and Quarterly.

9th April - 1st June
Betty Black - 'Sex, Death, Magic, and Cheeseburgers'
Betty Black is an Artist/Illustrator with a penchant for light bondage, heavy gore and anything deep-fried, chocolate dipped or cream filled. Her work is a darkly comic landscape, strongly influenced by vintage erotica and commercial imagery, and toys with traditional expectations of narrative.
http://bettyblackcomics.blogspot.co.uk/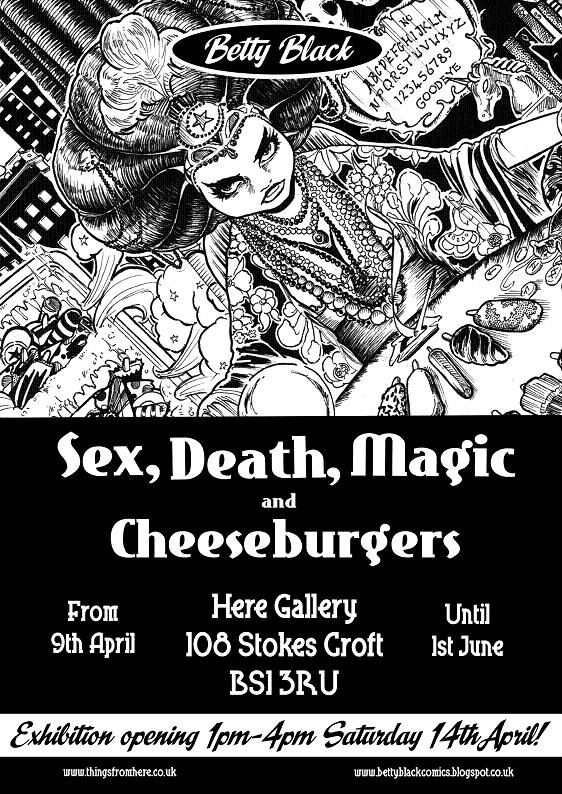 Archives
Photos from many past exhibitions can be seen on our Flickr pages