Here
is an award winning gallery and bookshop based in Bristol. Established in 2003, in 2008 we opened a
sister shop
in Falmouth, Cornwall.
We stock a select range of art books, magazines, underground comics, self-published zines, Japanese imports, and other hard to find titles. Along with artist made cards, prints, jewellery and plush toys.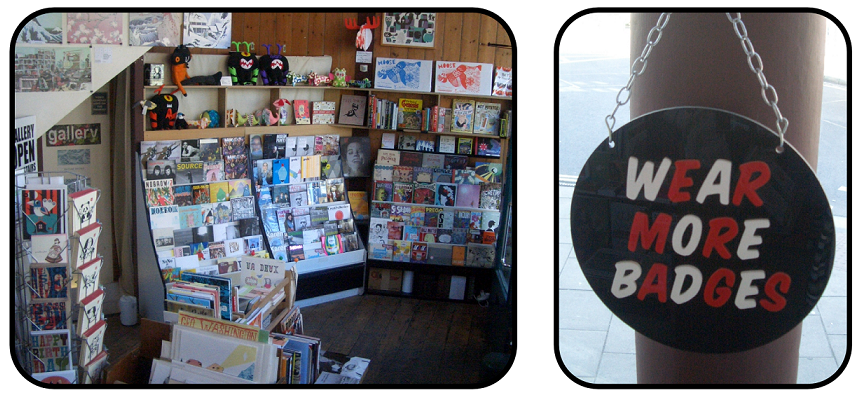 We host regular exhibitions from local and international artists, showing fine art, illustration and photographic work, with an empahsis on new and emerging artists.
Some of the artists whose work has graced our walls, either in solo or group shows:
Aaron Sewards
Eleanor Hardwick
Kyle Field
Nigel Peake
Adam Hancher
Evah Fan
Lawrence Roper
Owen Gatley
Alika Cooper
Fawn Gehweiler
Lizzy Stewart
Paris
Alys Paterson
French
Lucie Sheridan
Peskimo
Amy Ruppel
Heretic
Luke Jinks
Rob Hunter
Andy Council
Holly Wales
Luke Ramsey
Robert Hanson
Ben Newman
Jack Hudson
Marci Washington
Saelee Oh
Billy Childish
Jad Fair
Marcroy Smith
Sarah Knight
Bjorn Rune Lie
Jeana Sohn
Marcus Oakley
Seripop
Camilla Engman
Jill Bliss
Mark Pawson
Simon Peplow
Caroline Hwang
Jon Burgerman
Matte Stephens
Stuart Kolakovic
Christopher Bettig
Jon McNaught
Matthew Feyld
Supermundane
David Galletly
Julia Pott
Mike Perry
Susie Ghahremani
David Shillinglaw
Kelly Lynn Jones
Missy kulik
Xtina Lamb
Deth P Sun
Kev Grey
Mr Jago
Yellena James